Main content starts here, tab to start navigating
A small way for us to thank you for your support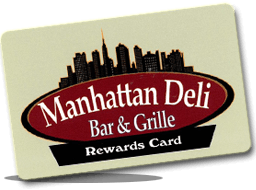 You'll be rewarded with credit and other fun goodies when you dine with us and use your rewards card.
On your next visit to Manhattan Deli Bar & Grille, ask your server or cashier for a card. There are no forms to fill out in the restaurant. (We want you to enjoy yourself, not worry about paperwork.) It's easy and it's FREE.
Points from your meal will be added to your new card. When you have the chance, come back to this page and register your card.
The Perks
Manhattan Deli Bar & Grill Points
Spend $1, earn 1 point.
Earn 100 points, get a $5 credit on your card!
Your credit will be added to your card as though it were a gift card. Use it whenever, on whatever you'd like. Just let your server know.
Birthday Presents
We're firm believers in celebrating birthdays with presents. Naturally, we'll have a little something for you on your birthday. It will arrive via email, so add "rewards@mymanhattandeli.com" to your safe sender list to be sure it survives the battle with your spam buster.
Other Goodies
We have a few other ideas up our sleeve. We'll do our best to keep the program exciting to be sure you know how much we appreciate your support.
Uh oh. I lost my card. How do I get a new one?
Worry not. Send us an email from the same address associated with your account and we'll mail you a new one. Our email address is: email? In the meantime write your name and email address on your check and your server can manually look up your account.
How do I check my balance or update my contact information?
We have a special website for that. Either click here or use the link above that reads "View Your Account."
What if I forget to bring my card to the restaurant? I want my points!
We can look you up! Write your name and phone number on your guest check and ask that your server look it up for you. We're happy to do it, just don't let it happen again.
My friend Billy is paying the check. Can I use my card and get the points?
We're sorry. Only the person paying the bill is eligible to receive points. We vote that Billy get a card of his own and join the fun! If you decide to split the check, we will be happy to make sure your account is credited for the portion of the bill that you pay.
I'm buying my friend Amanda a gift card. Do I get points for that?
Unfortunately, no. We're not able to issue points on gift card purchases. The good news is that when Amanda redeems her gift card, she can receive points. What can we say? Life isn't fair.
Can I receive points for private parties and large catering orders?
You sure can. We only ask that your account be active for at least one month before booking the party or large catering order (over $300.)
Will my information be shared with other companies?
Absolutely not.
How do I redeem my rewards?
We did our best to keep things nice and simple.
– To redeem credits earned by points: When you earn 100 points, we will add $5 in credit to your Card (it doubles as a gift card.) There will be a big note of congrats on your receipt when this happens. On a future visit, ask your server to apply your credit to your check.
Hmmm … You haven't answered my question. What now?
There's still hope! We would love for you to contact us with questions. You can reach us by email at rewards@mymanhattandeli.com or call our office at 440-585-1177
A Friendly Disclaimer
Welcome to the fine print. Sit back, relax and enjoy: you'll be earning points in no time. We may change the details of the program from time to time. And, there's always a chance we may cancel it at some point. There's no cash value for points or rewards. We're not able to issue you points for gift card purchases, tax, or gratuity. Lastly, we may limit what other promotions points can be earned with. Gosh, that was a lot of bad news. Who needs a Long Island Ice Tea?